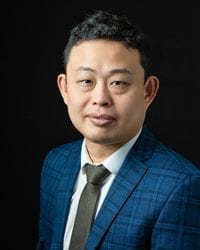 Lemmy@genesislawfirm.com
866-631-0028 x117
Lemuel "Lemmy" Lim's practice emphasizes immigration. More complex immigration cases based on employment and investment call upon his unique knowledge of business formation, acquisitions, and structures. He also oversees the firm's family-based immigration petitions.
His background is truly international and affords him a deep understanding of his practice area. Originally from Singapore, then the United Kingdom, he earned his first law degree from the University of London with highest honors. The University of London is a top-5 school in the United Kingdom. He remained at the University of London for Master of Laws, a higher level law degree. Lemmy later gained yet another advanced law degree, this time from the University of Washington, allowing him to sit for the bar in the United States. He is a member of the American Immigration Lawyers Association.
Lemmy started his working career as an analyst with Goldman Sachs. Goldman Sachs is the world's most prestigious investment bank. He rose through various Tier-1 investment banks and eventually became Vice President in the Securities Services Division of HSBC. In 2016 he retired from the banking sector to refocus on the law and give back to the community.
In his spare time, Lemmy likes to volunteer with non-profit organizations and is involved with the Anglican church community in Everett.
*Lemmy is licensed in Missouri, not Washington