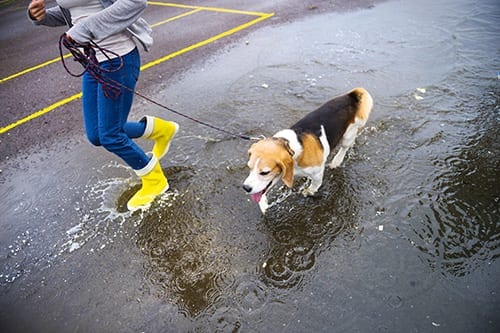 Surface water discharge, such as stormwater runoff, can raise substantial liability in the Everett and Seattle region. The heavy rains, steep slopes, and population density create large sheets and channels of displaced water. Those sheets and channels of displaced water can in turn negatively impact downstream waterways, structures, personal property, and land, sometimes causing entire homes to shift and fall.
Since 1896, Washington law has treated surface water (runoff) as a "common enemy" among landowners. As the seminal case opinion from Case v. Dicks stated, surface water is "an outlaw and a common enemy, against which any one may defend himself, even though by so doing injury may result to others." This means Washington presumes a landowner may alter the flow of water along his real estate.
Since the common enemy doctrine's inception, however, Washington has adopted numerous exceptions and conditions that complicate Washington's water discharge laws. As a result, liability can arise when a landowner's negligent redirection, channeling, or quickening of water causes damage to surrounding property. The 1999 Washington Supreme Court decision in Currens v. Sleek nearly abrogated the common enemy doctrine entirely by finding liability for landowners who simply increased the rate at which water flowed off their property.
Now more than ever, liability arises in Washington when a landowner causes water-related damage to surrounding areas. To comply with these increasingly strict water laws, any new development should have stormwater systems (and often water law counsel), and neighbors should be especially careful not to consolidate, redirect, or quicken existing water flow.
Contact us at Genesis to speak with an attorney well versed in water discharge law and the conditions in the Puget Sound. We have one or more attorneys whose practices emphasize real estate and water law, our legal credentials are top-tier, and we charge more reasonable hourly rates than most other upper-echelon firms.
Genesis: A better firm for a better world.