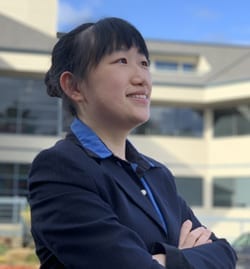 Genesis Law Firm proudly announces Qiuwen "Heather" Xu has joined the firm's family law (divorce) and estate planning practice groups in Bellevue (King County) and Everett (Snohomish County). Her practice will primarily serve the Puget Sound's Chinese-speaking and international communities.
Ms. Xu earned her undergraduate degree from China's renowned Peking University ("BeiDa"), currently the number-one university in China according to US News & World Report and arguably the most selective school in the world based on its applicants' academic competitiveness. While there she majored in International Politics and Economics (double major) and won prizes in the school's debate and speaking competitions.
She received her law degree (Juris Doctorate) from the University of Washington, the top-ranked law school in the Pacific Northwest. She excelled there as well, receiving awards for her moot court and mock trial performances and earning a position on the Washington International Law Journal. She also showed leadership, becoming the co-president of the Chinese American Law Students Association and an executive of the Law Women's Caucus.
Ms. Xu began her legal career as a summer associate at Milbank Tweed, a large international firm. She later externed for Judge J. Robin Hunt in Washington's Court of Appeals, Division II, gaining behind-the-scenes knowledge of the judicial process. Before joining Genesis, she worked for a boutique law firm in downtown Seattle.
Ms. Xu cares about family issues, especially those related to children. She was a full-time teaching fellow with Teach for China before entering the legal profession. She worked as a volunteer teacher in a small town in Yunnan for two years. Many of her students there were living alone or with grandparents because their parents were migrant labor workers trying to make a better living in big cities. She used this experience to advocate for quality education, but then she realized the lack of quality parenting is actually what causes economically disadvantaged children to suffer most. Teachers cannot become substitute parents; caring and connected parents play an irreplaceable important role in children's academic achievement, mental health, and social development.
In her practice as a family law and estate planning attorney, Ms. Xu will continue to follow our firm's client-centered approach, uphold our high standards for honesty, and fight for the best interests of children where applicable.
In her leisure time, Ms. Xu enjoys singing Chinese opera and exploring Puget Sound's outdoors with her husband and son.