by Samuel K. Darling, Snohomish County Divorce Lawyer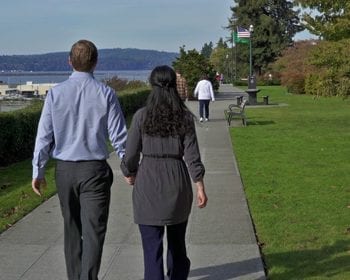 As the title suggests, this article lists who I, an Everett divorce attorney, believe are the top divorce and family law mediators in Snohomish County. Granted, there may be an element of bias in my opinion; however I try to remain as objective as possible. This is the same information I give my paying clients.
Parties typically MUST mediate before proceeding to trial in a divorce or family law matter. Moreover, an excellent mediator will settle upwards of 90% of his or her cases, greatly reducing the likelihood of going to trial at all. That means you should hire a great one if you can. If you cannot afford one of the expensive mediators, fear not—I will also mention who you can hire for less.
My criteria for ranking mediators is simple. First and foremost, I consider who is most likely to "close the case", or help parties reach settlement. But I will also recommend one mediator based on price rather than closing ability.
Without further ado, my top five mediators:
1) Ms. Patricia Nelson

Patricia Nelson is fast becoming our firm's favorite mediator, not just mine. For many prior years, we did not use her. But with the recent loss of two popular Snohomish County mediators (Lee Tinney and Mark Podrasky), we decided to give Ms. Nelson a try. She provides parties with no-nonsense evaluations of their cases, yet we have not seen her get angry. Moreover, she continually proposes alternative solutions to the parties' disputes. This is exactly what our firm looks for in a mediator. And to our dismay, these qualities have become increasingly difficult to find. It seems most mediators either shy away from blunt case evaluations (because the mediator wants to remain friends with the parties' attorneys) or gets frustrated and causes the parties to act defensively (which typically reduces the chance of settling a case).
2) Mr. James Shipman
James Shipman's style is to befriend parties while calmly describing each side's case weaknesses and the considerable financial costs of trial. The result: parties tend to listen to and respect his opinion. In essence, he is much like Ms. Nelson (see above), though his closing rate is lower than hers in our firm's experience. Mr. Shipman may be the most respected mediator in Snohomish County.
3) Mr. Aaron Shields
Aaron Shields was James Shipman's junior partner at the former law firm of Podrasky, Shipman, & Shields. All three name partners went on to become skilled mediators. Mark Podrasky, the senior-most attorney of the three, was the most popular mediator in Snohomish County when he retired in late 2015. Mr. Shields acquired Mr. Podrasky's mediation practice and has closely followed his footsteps. Like the other two mediators ranked higher on this list, Mr. Shields applies an evaluative approach, though his closing rate may not be as high.
4) Retired Judge Richard Thorpe
Judge Richard Thorpe retired from the Snohomish County Superior Court bench and now works exclusively as a mediator. Having been a gruff judge, he expects people to listen; and he can be a good choice when someone involved in the proceeding—a lawyer or party—needs to be brought in line. He cares about closing cases and will push parties fairly hard to achieve that outcome. A word of warning: Judge Thorpe's personality may be too forceful for some parties.
5) Mr. Wayne Pellegrini
Wayne Pellegrinni may be the most liked mediator in Snohomish County, and a popular choice as a result. Compared to the other names on this top-five list, Mr. Pellegrini rarely offers parties his straightforward opinion of their cases' strengths and weaknesses. He adopts a more facilitative approach. This makes him a good choice when working with sensitive opposing parties and attorneys.
Honorable Mention Based On Price: Volunteers of America Dispute Resolution Center
The Dispute Resolution Center (DRC) is not a mediator; it is a mediation center with numerous volunteer mediators randomly assigned to cases. That means you have no idea whether the mediator will be good or bad. The DRC nonetheless deserves mention as a low-cost alternative to typical mediation services. The cost is only $200 for a session, and that amount can decrease on a sliding scale based on the parties' incomes. Sessions with other mediators often end up costing $2,000 or more at normal hourly rates. That makes the DRC a good choice for those who cannot afford a top-level mediator, or those who expect mediation to be unsuccessful regardless. Of note, the DRC's rules prohibit mediation of child support disputes, though the DRC will mediate all other aspects of a divorce or family law case, such as custody issues and property division. Also of note, the DRC will not allow parties to bring their attorneys to the mediation session if either party objects to doing so.
For more free articles and guides on family law topics, we encourage you to visit the 'resources' section of our website.
Recommended Articles & Videos: